Raw Multiseed Crackers [dried in dehydrator]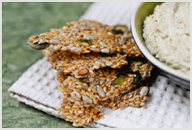 160 grams (1 cup) flax seeds (a.k.a. linseeds), golden or brown
70 grams (1/2 cup) mixed seeds optional ( sesame, sunflower and pumpkin), not toasted
1/2 teaspoon fine sea salt optional
1 teaspoon thyrme, or cumin seeds, or ground chili pepper, or the spice/spice mix of your choice.The night before, put the flax seeds in a medium bowl and add 240 ml (1 cup) water or cover with 2-3 cm water. In another bowl, put the mixed seeds and add water to cover.
In the morning, drain the mixed seeds well, and add them to the soaked and now gel-like flax seeds (these need no draining). Add the salt and paprika, and stir well with a fork to combine.
Spread very thinly on one or two dehydrator trays lined with pieces of non stick baking paper. An offset spatula — the kind you'd use to frost a cake — makes the spreading easier.
Dehydrate at 45°C (110°F) for about 6 hours, until dry and crisp. About 3 hours into the dehydrating, flip the crackers so they will dehydrate evenly. Break into pieces once cooled.
You can more elaborate with putting the linseeds, after soaking into a food processor & blend up with fresh tomato, chopped onion +/- red capsicum …or anything you can dream up.I have even seen recipes to make sweet biscuit crackers… just google flax seed recipes and you will get heaps of recipes and U tube demonstrations. Some have suggested using the oven to dry instead of a dehydrator but would have to be temp controlled very well & minimal or even putting out in hot summer sun, much like some middle east unleaved flat breads are made to dry over several days, but I have not tried that yet, The dehydrator is much easier!!